#PSDearNYC is a collection of ten city improving ideas by Primate Studio. From the city streets to the iconic subway, we explored simple yet game-changing concepts. Through research, feedback, and design innovation, here are our ten ideas for the city. With this project we hope to inspire public discourse and increase civic participation around important topics such as sustainability and public health.
Urban running trails integrated into sidewalks provide runners with cushioned lanes and right-of-way throughout the city.
​
In a concrete jungle where parks are small or scarcely spaced, and sidewalks are congested with shoppers and tourists, running outside can be both frustrating and inconvenient. Now imagine a track implemented right into existing sidewalks, elevated to avoid pedestrian traffic to create a scenic and convenient path throughout the city. Bike lanes exist, so why not a lane for runners?
​
Topics: public health, exercise, outdoors
​
2. Subway Directional Arrows
Pedestrian traffic flow can be improved on subway stairs with the use of directional arrows that change during peak times.
​
We've all been there. It's rush hour and you're frenziedly dodging people coming up as you're going down. This may seem basic but a simple marking designating stairs as up or down can make a huge impact on efficiency when it comes to pedestrian traffic. The MTA conducted a study showing that people subconsciously responded to directional arrows. The lights could change depending on traffic flow. This would be especially useful on wider staircases that have more than two pathways, designating two as up and one as down, etc (ex: Columbus Circle ACE/BD stairs).
​
Topics: efficiency, public transportation, safety​
3. Vertical Planter Program
Vertical planters supplied by the city can provide building owners and residents with access to greenery while living vertically.
These planters are designed to be versatile - attachable to any steel bar, a structural component classic to residential NYC despite the neighborhood or class. Whether it be the front gate, stair railing, fire escape or window sill, the planter can be hung. Residents can choose what to grow to add greenery, beautifying neighborhoods and reducing air pollution. In cities like NYC that have limited space, solutions must be thought about vertically rather than horizontally.
​
Topics: greenery, pollution, public health, community
4. Community Sustainability Board
Community sustainability boards displayed at each neighborhood present real time visual data on things like the current air quality, and the total water and energy use.
​
Inspired by NYC's LinkNYC kiosk, the board is used to create awareness and help push a community-wide consciousness on sustainability. By providing this information visually and publicly, people can start to set goals to improve the environment and see real time results on how they make an impact.
​
Topics: pollution, energy, sustainability, health, community
This bodega reduces waste by eliminating single use packaging. Customers bring or buy their own reusable containers. Food waste is composted.
​
"A chicken cutlet on a hero with lettuce, tomato, chipotle mayo and provolone please!​" How many sandwiches are bought at the bodega in one day? How many plastic containers are used and thrown away after the meal? What about the countless number of prepackaged pastries and snacks? Imagine a bodega that encourages you to bring your own container, sells reusable containers, or has a bring-home-bring-back drop off container system? Nuts, chips, and other snacks can be dispensed rather than packaged separately.
Topics: pollution, sustainability, waste
This subway car provides extra features that help make public transportation more accessible who are disabled or in special circumstances.
​
The front or end cars of each subway train can be designated as accessibility friendly, making them easier to find. These subway cars could feature extra amenities such as a ramp into the car, wheelchair areas, bike and stroller racks, and seating for the disabled or pregnant, that fold up to create more room if needed. These amenities would be featured alongside the regular priority seating on the subway. These cars would hopefully create a safe alternative space away from large crowding and help make public transportation more accessible to everyone.
​
Topics: accessibility, public transportation
7. Autonomous Micro-Bus Line
Autonomous micro-bus lines are fixed-route, on-demand shuttles, that can be called and tracked by an app.
​
What does the future of public transportation look like as technology advances?​ These autonomous buses run on a fixed track and can act as quick express shuttles that stop at stations only when needed. The buses and stations can run on and be connected electrically, with a call button and a continuously updated map and wait time display at each stop. Much like Uber, these micro-buses can be accompanied by an optional app to help call and track the bus.
​
Topics: lifestyle, public transportation, technology, efficiency
8. Long Distance Protected Bike Lanes
These lanes are for long-distance cyclists, commuting from the suburbs, providing a seamless route to avoid both vehicle and pedestrian traffic.
​
These cyclist only lanes can be built like highways, coming from the suburbs or connecting neighborhoods. Having them be exclusively for bikes not only increases safety but creates an incentive for travelers to choose a greener, more active option above ground rather than individual vehicles. Much like the carpool lane, these routes can be shortcuts or express lanes from commuting areas.
​
Topics: public health, exercise, commuting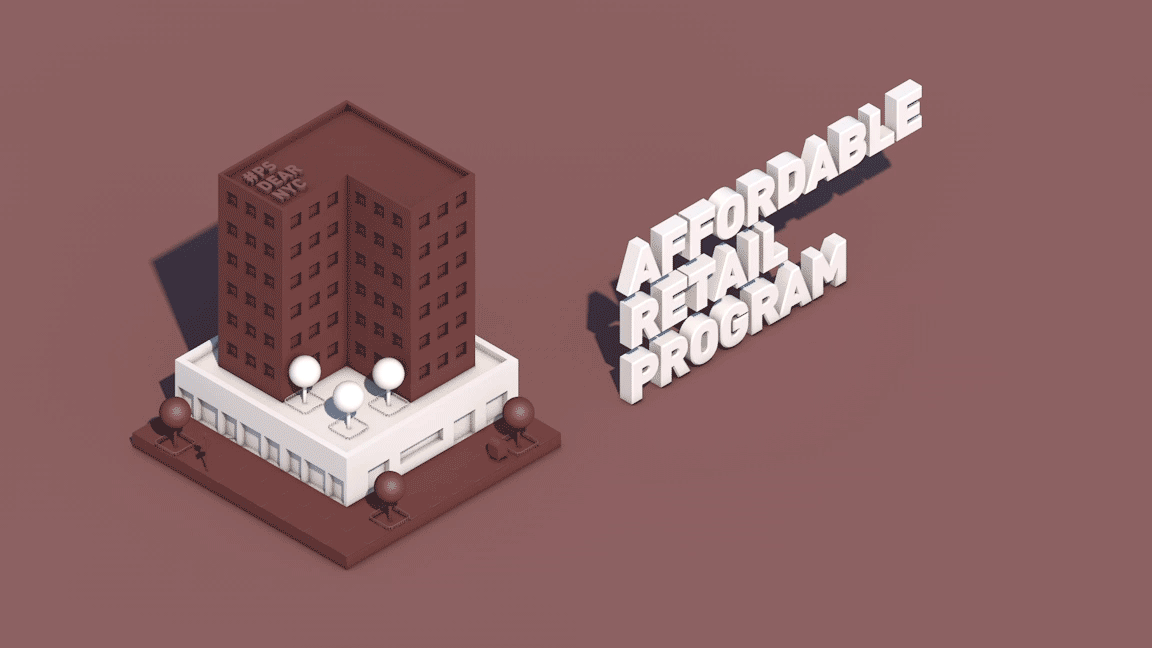 9. Affordable Retail Program
The affordable retail program is a city subsidized program assisting small, local businesses, built around our existing public housing blocks.
​
The affordable retail program can be an initiative led by the city to create launch pads for neighborhood businesses. By using under utilized space around the ground floor and surrounding area of residential housing, space is used more effectively. This program creates low cost retail space, as well as a community of shops and new businesses for the community.
​
Topics: community, affordability, lifestyle
10. Green Pedestrian Streets
Green pedestrian streets bring the park closer by converting vehicle space to plaza like blocks for city-goers to enjoy.
Much like DOT's Nyc Plaza Program, entire underutilized streets can be converted into street wide parks. These green streets would be blocked off from vehicles, creating a safe outdoor community area. By adding greenery, these streets could integrate more park like areas throughout the city. People could walk out of their offices and enjoy their lunch break right on a lawn in front of their building.
​
Topics: outdoors, community, lifestyle